Gierach in his natural habitat
TU: Why fly-fishing instead of golf?
J.G.: Well, it's doesn't destroy habitat, for one thing. Golf courses destroy habitat. Fishing depends on habitat not being destroyed. Culturally, golf is just pointlessly ridiculous. If you don't just see that golf is ridiculous, then you don't get it.
So perfect. So absolutely perfect. I have to admit to have never played golf in my life and I have absolutely no desire to do so. I never understood the game and it never appealed to me. I am always amazed at how many times people have compared the two pastimes. I suppose in some ways there are some similarities. Learning to use the equipment properly takes time and practice. Even after you have learned a lot about it, you will always be able to learn more. Both take place outside. You have a good chance of being struck by lightning because of the gear you are using. That is about where the similarities end in my mind.
Let's look at the differences.
Very dangerous- now hit it with a club!
-The object in golf is to outsmart a white, inanimate object in an excessively manicured setting. The object in fly fishing is to outsmart a wild animal in its natural habitat. The habitat changes a lot, the fish's prey changes over a season, the fish move, etc. Correct me if I am wrong, but the environment of a golf course is intended to remain exactly the same every time you go there. The weather might change, but the level of the grass on the golf course is not likely to change rapidly with a good thunderstorm. And the balls are not likely to go on the feed in that event either. I think if I were to get to a trout stream, pike river, wetland, lake or pond and found it perfectly groomed, I would cry. Although I guess I might consider a tournament bass boat to be similar to a golf cart.
Grizzly hackle, flash and eyes- it will catch a fish!
- Every time you go to a golf course, unless you are a member of the club (and sometimes even then), you pay a greens fee. I pay for a fishing license once a year and I can fish for a year. There are fee to fish places in the States (I know it is much more common in Europe and elsewhere) and I admit I have fished in one on occasion, although the fees are rather prohibitive now. Since I buy a yearly license in Vermont ($20) and in New York ($70-just went up last year from 40) I still pay less than going to your average golf course 3 or 4 times. In some places that $90 won't even cut it too! And I can fish dawn to dark, not just 18 holes. Can you imagine "I am sorry sir, you have already fished 6 pools, 7 runs and 5 riffles. If you want to continue you need to pay the fees again".
Is it golfing or clown college?
- Most fly fishermen (and women) try to dress so as to be more part of the environment. If you blend, you generally catch more fish in most situations. Not all the time, but it definitely can make a difference on a wild trout stream in the East. Ever seen some golfers? Need I say more? I am amazed that the golf balls don't flee in shock from the discordant patterns- enough to cause a Woodstock hippy to have a serious flashback.
- Golfers count their strokes and rate themselves by that measure. I suppose that some folks will count a tally of fish caught and compare that to others as a measure of success, but I think that most fly anglers don't mind having a nice day out on the water without even catching anything.
Sometimes it is just about being out there
. I guess that if I had to pay to be having fun I might want to have a measure of my success though.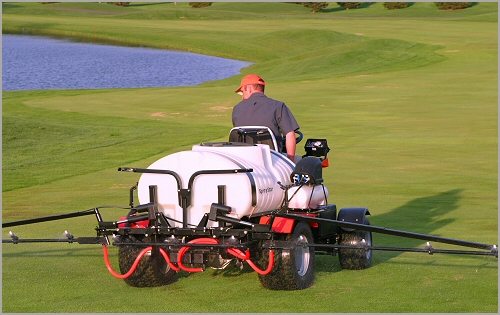 One of the reasons for those greens fees!
- Fly anglers generally have an honest concern for the environment. Look at groups like Trout Unlimited, Bonefish and Tarpon Trust, and the Fly Fishing Federation. Many fly fishing companies like Orvis and others give generously to conservation efforts. There is a genuine consciousness of the need for healthy habitat and keeping that habitat wild. And there is a long history of anglers being whistle blowers on those that cause damage to those environments we spend time in. Don't mess with our fish man! Remember those perfectly manicured greens? The grass that needs to be kept perfect for the little white dimply balls (I mean the ones the folks are playing the game with)? Do you think there might be a few herbicides, insecticides, fungicides, other pesticides and fertilizers used to keep those greens so obsessively compulsively flawless?
Check out this article
, the doctor says not to chew on grass or tees from the greens and not to put your cigar or cigarette down on them either. Now, if there are potential impacts to the humans on the golf course, do you suppose there might be risks to the fishes, invertebrates, reptiles, amphibians, plants, and all the other biological entities in the local ecology? Don't even get me started about water use to have golf in places like New Mexico, Arizona and Las Vegas….
It strikes me that there is a pretty distinct difference in mindset between the two "sports". I don't get golf. I never will. I know that some people will never get fly fishing too. That is ok. But at the end of the day I know that as a fly angler I am likely to have less negative impact on local habitat than golfers. What would you think of a guide service that offers a day of fly fishing combined with a day of golfing? A bit of a split personality perhaps?
I guess some people will just never get it.....