My old nymph box
I use a lot of weighted flies. I want to make sure that the flies I use get down to where the fish are and stay there. So, in order to keep my imitations in the strike zone I weight them. I will use a lot of weight and different types of weight on my flies. I also have a lot of different ways of getting my flies down toward the bottom. Putting weight on flies is not just important when fishing for trout but also for many other species of fish, notably, pretty much all of the species I target locally.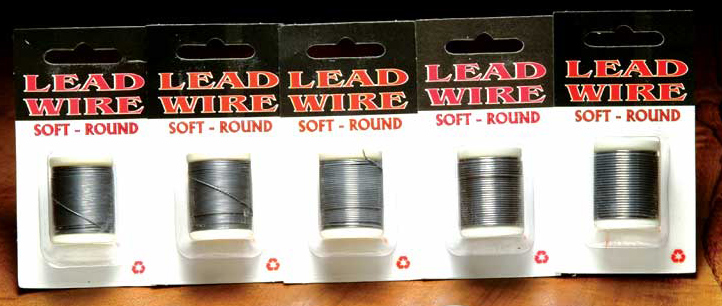 The old classic method of getting a fly to the bottom is to use lead wire. You can't mess with a classic like that! It works. I use a lot of lead wire on my nymphs, streamers, and other patterns. I use it behind a lot of the beads and cones I use too. Lead wire is great stuff. I have used the non-toxic wire too, but I am not much of a fan. In order to get the same weight on the fly you need to use non-toxic wire of much larger diameter. That doesn't work well with a lot of smaller patterns and it can really bulk up other patterns quickly. Not what you want in a lot of situations. I have been finding lead wire to be more difficult to find lately. Fortunately a friend gave me two spools of lead core fishing line. 200 yards of .020 lead wire that I just need to remove from the
outer sheath of nylon.
Sometime in the 1990's Americans caught on to the brass bead which had been introduced and used by Europeans sometime earlier. The brass bead adds weight and flash (although you can get some dull or tarnished beads now). Like everyone else I caught on to using beads right off the bat and now a very high percentage of my nymphs are beaded. They are available in just about any color you want in a huge range of sizes. The biggest downside to beads is making sure that you are using them on a hook that can accept them. Some hook bends just don't work out well, most notably Limerick bends.
Shortly after the brass beads made their impression the brass cone showed up. Awesome for streamers! Just an awesome thing to put on the front of your bugger, muddler, sculpin, egg sucking leach, pike fly, well almost any streamer. They provided more weight and look great on streamers. They don't look too bad on nymphs either, but I have to admit that I prefer them on streamers.
Orvis's Tom Rosenbauer wanted to get his flies deeper when using beads and he came up with a great idea- make the beads out of tungsten. Tungsten is more environmentally friendly than lead and even brass. It is denser than both of them which gives it a much faster sink rate. If you have ever used the stuff you know that already. It sinks like a cannonball! Well, faster than that since cannonballs are generally lead… The biggest downside to tungsten is the cost. Tungsten beads and cones are a lot more expensive. Usually at least two times more expensive, sometimes more than that. Why? The beads and cones have to be cast instead of machined. Machining beads is fast and cheap. Casting them is much more labor intensive and mold marks need to be removed. If you want your fly on the bottom fast though, you want to use tungsten.
More thoughts on weight coming in the next installment...